Throughout May we're featuring design advice from our Visual Design Team. How do they get inspired? What are their best design tips? How can you take your home from ordinary to exciting? This week, we're exploring how to mix design styles by examining how our Visual Merchandisers, Carolyn and Amanda, created a fun kids' bedroom. Here are some of their insights:
Look Beyond the Obvious
Amanda says, "When you first look at this furniture, the finish is rustic, but the lines and cut are modern. That triggers the imagination and opens the door to mixing design styles and themes."
Mix Eras 
Our Team went with retro styling rather than a predictable rustic theme for a playful effect. Carolyn explains, "We let shapes and colours take centre stage. Turquoise bedding and accents highlight the beauty of the furniture's finish while offering fresh colour and contrast." Geometrics create an art deco vibe that is very on-trend.
Consider Geometrics
Whatever your design style, geometric s add instant modernism and drama. In the vignette created by our Visual Design Team, circles in the bedding and wall hanging and square details in the lamps set a contemporary tone.
Carolyn and Amanda offer their expert tips for incorporating geometrics into your space:
Repetition is the key. Find 2 or 3 elements in your room to repeat geometric patterns – wall hangings, upholstery, rugs, etc. Don't go overboard, but do establish unity through repetition.
Geometrics become the focal point of a room. If you're conservative, limit your use to a few simple pieces and avoid bright colours. Amanda explains, "A rug and cushions with a circle pattern may be all you need to embrace the look."
Accessories. If you want to sample geometrics, accessories are an affordable way to dabble, as in our vignette. A single wall of geometric wallpaper is also a great place to start.
Think outside the square (or circle!) Don't forget, geometrics include other patterns that may better suit your sense of style – like a triangle, rhombus or even the timeless stripe. Plus, you can mix a couple of shapes for even more interest.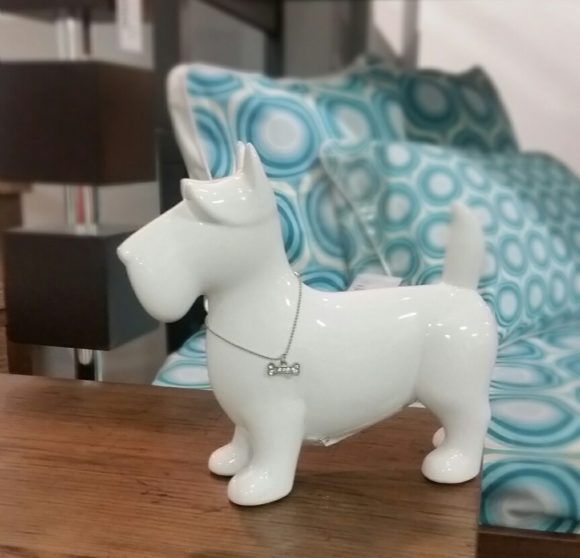 Don't be afraid! Carolyn says if there's one message she'd like to convey, it's to go past your fears and welcome change. "Our team loves to experiment. When we allow ourselves to go outside the box, we have our most amazing ideas." She adds, "And you can too!"