Bicycling: good for you, good for nature
With summer in full swing, we're all looking for ways to enjoy the great outdoors and stay fit (and yes, maybe even look good in a pair of shorts!). One of the best things for your cardiovascular health is bicycling. It's a super workout – and at a more leisurely pace – it's a wonderful way to spend an afternoon out and about. Of course, cycling is also a green choice that's good for nature. Maybe you can ride your bike to work sometimes or to the corner store on an errand? Every little bit counts – for the environment and for your thighs.
Hmm, about now you must be wondering what bicycling has to do with Stoney Creek Furniture…
We're proud to now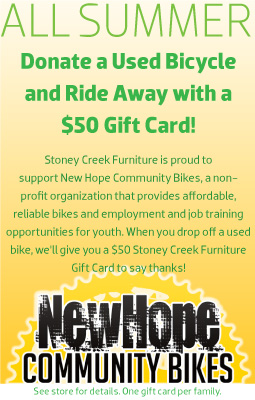 support New Hope Community Bikes
Well, we are happy to announce that Stoney Creek Furniture is supporting New Hope Community Bikes in Hamilton. It's a non-profit organization that seeks to provide access to affordable, reliable bikes, as well as employment and training opportunities for youth. This great organization wants to make your community healthier and more environmentally friendly. What a worthwhile cause!
Making a difference right in your community
To help New Hope Community Bikes, Stoney Creek Furniture is now accepting donations of used bicycles at the store. When you come in for the Summer Sale-a-thon, that's a perfect time to bring along a used bike. And here's the best part…
WHEN YOU DONATE A USED BICYCLE, YOU'LL RECEIVE A $50 STONEY CREEK FURNITURE GIFT CARD!
How's that for win-win?! You help a great cause AND you get $50 to spend at Stoney Creek Furniture!
Don't miss our Summer Sale-a-thon…and bring along a used bike!
Go to your garage right now and dig out your old bike – and bring it along when you come to the Summer Sale-a-thon! Your $50 Stoney Creek Furniture Gift Card is waiting! Tune into CHCH Morning Live on Thursday, July 12 at 8:50 AM to hear more about this exciting program from Stoney Creek Furniture's own Jim Fee and Andrew Hibma from New Hope Community Bikes.