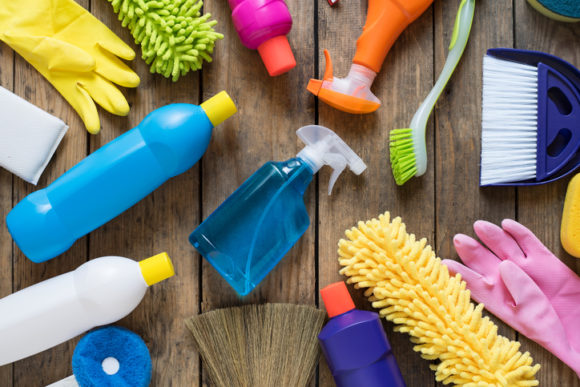 When spring officially arrives on the calendar, whatever the weather, there's a definite change in the air. We start thinking about our gardens, dining on the patio and perhaps welcoming friends and family for Easter celebrations. But first…there's spring cleaning to do! Below are some of our favourite get ready for spring tips:
Dust from the top down.
We know you're going to dust and clean the walls, ceilings, furnishings, light fixtures and every surface – but do you know the best way to do it is to work from the top down? That means doing upstairs before downstairs and high surfaces before low surfaces within a room. Why? Dust settles downward, finally resting on the floor of your bottom level.
Take cushions outside.
Your chair and sofa cushions can be gently beaten outside and even hung for awhile in the fresh air, depending on weather. Vacuum under the cushions thoroughly with the brush and crevice devices; maybe even tuck a tiny lavender sachet in there for a gorgeous and calming scent! Check your furnishings for care labels if you need to removes stains.
Wash draperies and curtains.
Don't assume you need to dry clean. Many draperies and curtains are machine washable. What's more, you can hang them on an outdoor clothes line to dry. (If you don't have a clothes line, we urge you to get one. The smell of fabrics dried outdoors is so refreshing.) Of course, check drapery labels to be sure what's best for the fabric.
Create a natural air freshener.
No need for chemicals and sprays! Here's an easy, natural to make your freshly-cleaned home smell great. Simmer a litre of water in a saucepan combined with some deliciously-scented ingredients. Here are a couple of suggestions:  
1 lemon (sliced), 2 tablespoons rosemary and a touch of vanilla
1 lime (sliced) and 2 tablespoons thyme
Thoroughly clean your mattress.
A new season is a great time to REALLY clean your mattress. Not only is it good for your well being to get rid of dust mites, etc., it also extends the life of your mattress. Start with a thorough cleaning by using the brush attachment on your vacuum, and be sure to get all the nooks and crannies.
Choose natural cleaners.
Better for the environment. Safer for your family. Cheaper. Just as effective. What's not to like about natural cleaners?! Some favourites are lemon, baking soda, white vinegar, and Castile soap. Do your research – you'll find lots of ways to combine them to make amazing cleaning products. And don't forget essential oils to add a lovely scent.
Good luck with your spring cleaning – and then enjoy the beauty of this magical season!