With Christmas just days away, I wonder if you're like me and still rushing around – decorating, last minute gift shopping and getting your home ready for holiday get-togethers. My partner belongs to an organization that is helping serve Christmas dinner to the less fortunate on December 23rd. He asked me to join him and my first thought was – I just don't have time. But you know, I think I will make the time. At the end of the day, isn't love and goodwill what Christmas is all about?
Give a Little of Yourself
Twice in the last week, strangers offered to help me in small but meaningful ways. Once when I had to add windshield washer fluid to my car on a bone chilling night and again when I was carrying a large package into the post office. Little things yes, but they made me smile – and they've inspired me to pay it forward this holiday season. Do you feel the same way? Here are some things you can do:
Volunteer at a hospital, hospice or nursing home
Get involved with a food bank
Foster a cat or dog needing a temporary home
Shovel snow for a neighbour
Run errands for an elderly neighbour
Bring soup or a casserole to a sick friend
Surprise a work colleague by cleaning snow off their car
It's easy to think of other ideas when you start feeling the genuine joy it brings to help others!
Giving Back at Stoney Creek Furniture
I'm proud to say that community involvement and caring is a way of life at Stoney Creek Furniture. Here are a couple of highlights:
Have you been to the 'Giving Back Corner'?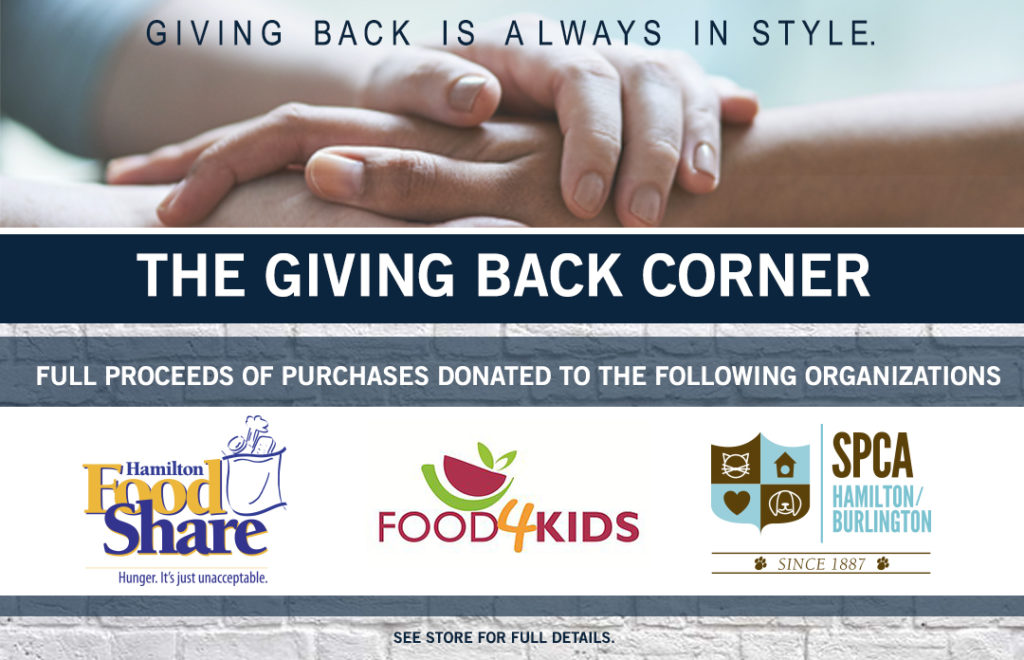 At the Stoney Creek store location, select pieces of furniture are offered at great savings. Full proceeds from all items sold go to one of three local charities: Food4Kids, Hamilton Food Share or Hamilton/Burlington SPCA. Drop by and have a look! The area is restocked often with fantastic new deals!
Wrap It Up Event
Stoney Creek Furniture's 3rd annual 'Wrap It Up' event in November was a great success! About 300 people attended, raising $18,600 for Hamilton Food Share through ticket sales, silent auction and raffle tickets. With Hamilton Food Share's buying power of every $1 generating $5 worth of food, this equates to $93,000 of food for the Hamilton community!
Wishing you and yours a happy and healthy festive season!