Many of us are adopting a 'less is more' attitude – suddenly it's not only practical to have a small space, it's downright trendy! While living within a smaller footprint has many advantages, nobody wants to feel cramped or inconvenienced (or to sacrifice luxury!).
Here are a few ways you can make your smaller space look amazing and function beautifully:
Follow the 3 Rs and the 3 Ds. A smaller space does mean evaluating and editing your possessions. Reduce, reuse and recycle wherever you can, but also donate, de-clutter and downsize. Be ruthless. If you can't repurpose an item effectively, give it away or find a smaller version.
Place Furniture Properly. Intuitively, you may want to push furniture against the walls to reveal more floor space, but actually, bringing furnishings in from the walls creates the illusion of space – and makes for better conversation flow.
Consider Multi-Purpose Furnishings. Choose an ottoman as your cocktail table that also functions as a seat. Or a cocktail table with storage. Or a dining room table with leaves. Explore. There are lots of options available.
Go Neutral or Monochromatic. Neutrals are ideal in small spaces. Inherently classic, they recede rather than stand out, creating a feeling of timeless luxury. Another fabulous option is to choose multiple shades of the same colour for walls, trim and ceiling. HINT: A piece or two of furniture that matches the shade of your walls is a great blending idea.
Go Light….Maybe! We've all heard that light colours open up a space and of course that's true. But what if you love the drama and intimacy of darker walls, not to mention that they are on trend? Honestly, go for it – but follow a few guidelines. Perhaps choose a dark accent wall rather than a whole room; choose lighter floors and furnishings and don't break the line of the colour i.e. always take the colour all the way to the ceiling.
Work Magic with Mirrors. You can totally change the vibe of a room with mirrors. Not only do they dramatically open a space, they also reflect light. Choose larger mirrors; vertical is perfect.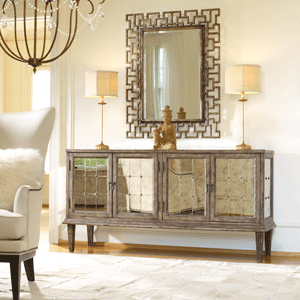 Look Up! Drawing the eye upward makes a room appear higher. Choose vertical furnishings like armoires and bookcases. They also provide valuable storage space. And don't forget the ceiling. Paint the ceiling a bright colour that pops; again, the eye is drawn upwards.
Choose Appropriately-Sized Furniture. You'll often read that smaller-scaled furnishings are better for small spaces. We disagree! While there's no need to choose incredibly large pieces, go full size for comfort. The trick is to have fewer pieces to keep the space open. HINT: Furniture with longer legs rather than solid to the floor looks less bulky.
Follow these tips and your smaller space will feel and look expansive!