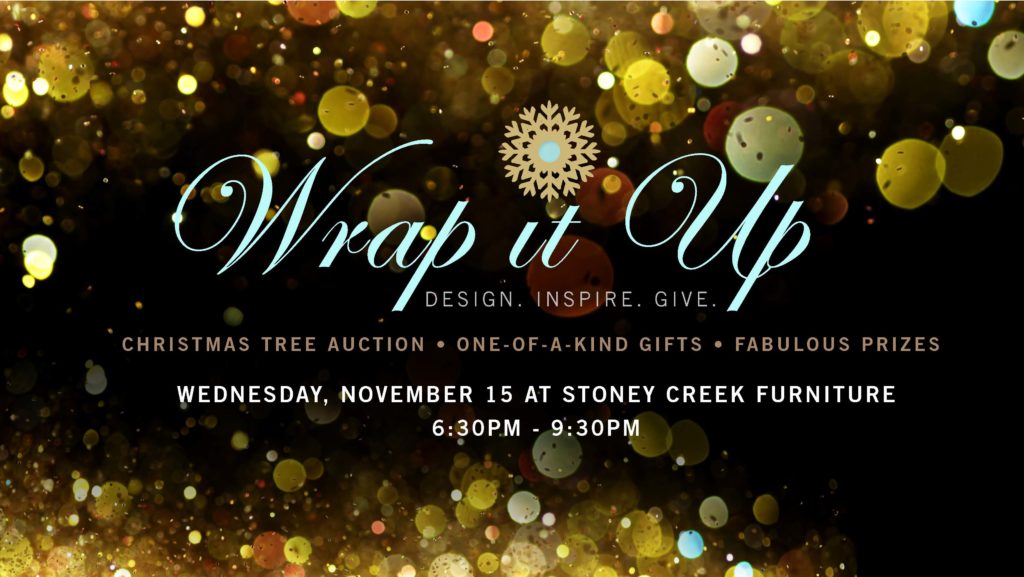 The holidays are a time for fun gatherings with family and friends – a time we all enjoy decorating our homes to reflect the beauty of the season! This year, there's a wonderful way to get holiday décor ideas, do some gift shopping and most importantly, make a difference in the lives of less fortunate families in our community.
Join us for our 3rd Annual Wrap it Up
An Evening of Holiday Inspiration & Giving
Wednesday, November 15
6:30 – 9:30 PM
Stoney Creek location only, 395 Lewis Road
Tickets: $10, includes ballot for Grand Prize Draw
 You'll love the:
Christmas Tree Auction – 7 trees decorated by talented designers
One-of-a-Kind Gift Vendors
Door & Raffle Prizes including a 12 Piece Rachael Ray Cookware Set and Jonathan Louis Chaise Lounge
The best part? All proceeds go to Hamilton Food Share!
Some facts about hunger in Hamilton:
4,592 children are among the 12,580 people relying on food banks.
Food bank usage has increased almost 6% over last year.
81% of parents using food banks often have to sacrifice their own food to feed their children.
33% more people than last year need 16 or more days worth of food this year.
The statistics are startling but you can help. Last year, Wrap it Up raised $18,400 which is equal to $92,000 worth of food, based on Hamilton Food Share's buying power!
More about Hamilton Food Share
Started in 1990, Hamilton Food Share is a non-profit charity comprised of nine food banks and six hot meal programs. Hamilton Food Share uses a unique, extremely effective Food Recovery Program to optimize food donations.
Leveraging relationships in the food industry, along with thousands of volunteers, Hamilton Food Share's Food Recovery Program takes "healthy and good product deemed surplus and un-salable by food industry standards and redirects it onto the tables of the people who need it the most." By building these partnerships in the food industry, there's a continuous supply of food donations and each dollar raised keeps on working to support hungry families in Hamilton. In fact, the system developed is so powerful, that every dollar donated to Hamilton Food Share translates to $5 worth of food.
Hamilton Food Share raises over 2.7 million pounds of donated food annually and 85% of donations are raised from the food industry. This is food that was not accessible to local emergency food programs until Hamilton Food Share's Food Recovery program was established.
Learn more about the incredible work being done by Hamilton Food Share and do your part to help by attending Wrap it Up! Besides contributing to a very worthwhile cause, Wrap it Up is the perfect way to start your holiday season in style. See you there.